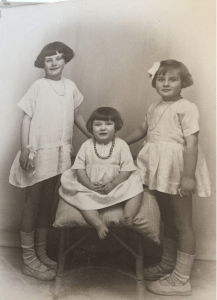 LORD HELP THE SISTER!
Although it could never be called unpopular, being a sister seemed to come more into fashion during the Fifties and Sixties. In Britain the harmonious Beverley Sisters were a ubiquitous presence on the new black and white television screens which were invading the living rooms. In America, their equivalent was a trio called the Andrews Sisters.
Not to be left out, Bourton's answer was the Minchin Sisters – Eileen, Peggy, Nancy and Thelma and, like their TV versions, they introduced a sense of style and colour into a sepia existence. Although there was a long way to go, it was an early milestone on the road to female liberation, a huge advance on the restricted pre-War world into which they had been born.
On occasions, while doing her housework, Eileen would sing a song she'd heard many times over the radio (lyrics by Irving Berlin)…
Sisters, sisters…There were never such devoted sisters…
It's punchline was frequently quoted…
Lord help the mister who comes between me and my sister…And lord help the sister, who comes between me and my man
As it was, the Minchin sisters were all attractive and got their men – Eileen and Ken, Peggy and Vic, Nancy and John, Thelma and Reg, and the sisters and their husbands always remained close.
Website request: Please send more pictures of the sisters together, with information and comments.
---
---